About Us
Voted #1 boudin and cracklins by the Times of Acadiana Reader's Poll year after year. Thanks Acadiana!
In the mid-80s, Louisiana's economy took a heavy hit. Still employed, but both needing extra income, Lawrence Menard (Uncle Brud) and Robert Cormier stood in a vacant parking lot in Scott, Louisiana, and began talking about new possibilities.
This deserted lot would soon turn into The Best Stop Supermarket.
Opening its doors on November 1, 1986, Lawrence and Robert worked tirelessly seven-days-a-week developing and refining their boudin, cracklins, sausage, specialty meats, and cajun seasonings recipes. Alongside the duo was Mrs. Jerry Prejean Hovatta, who not only helped create the recipe but also made and prayed the rosary for it every day.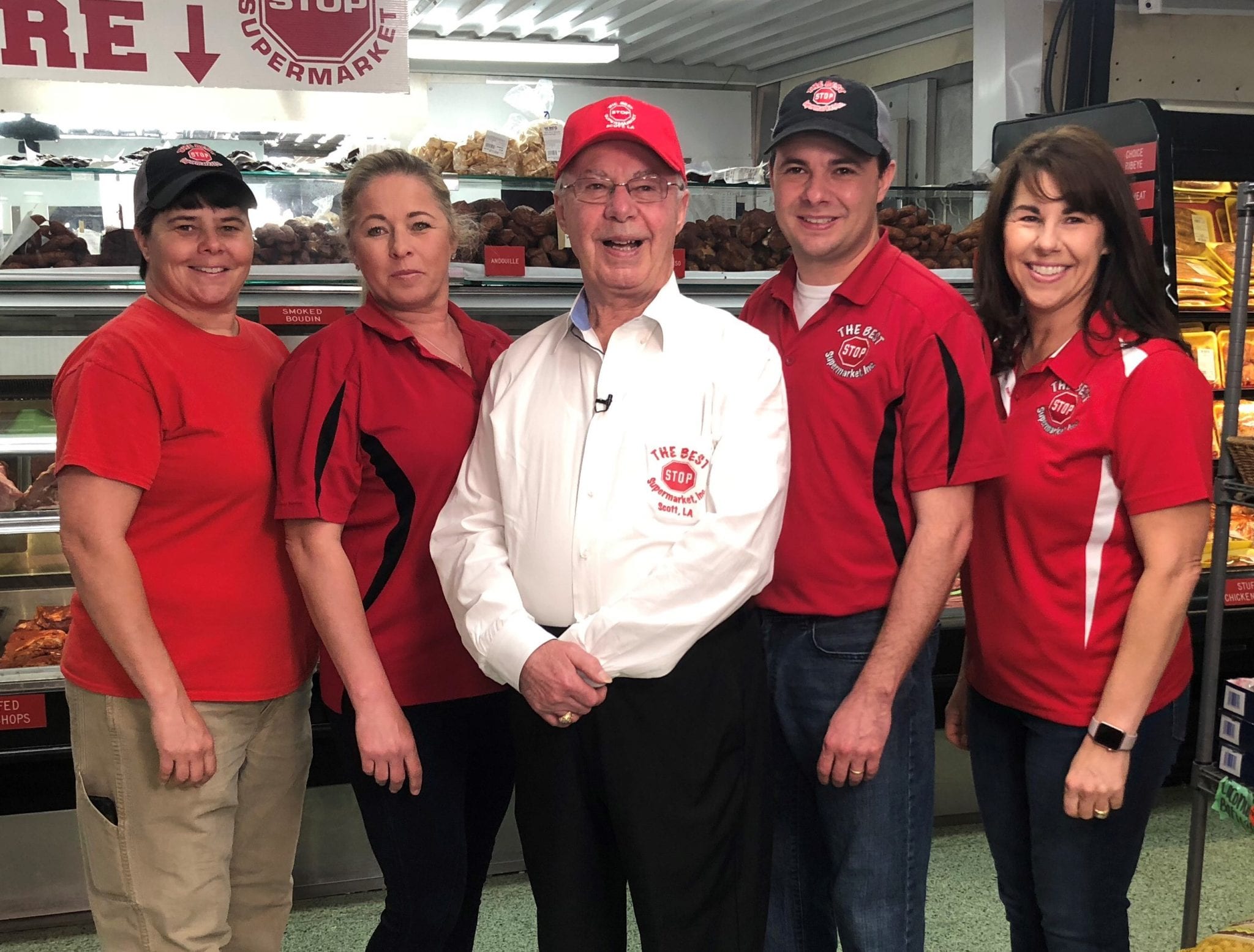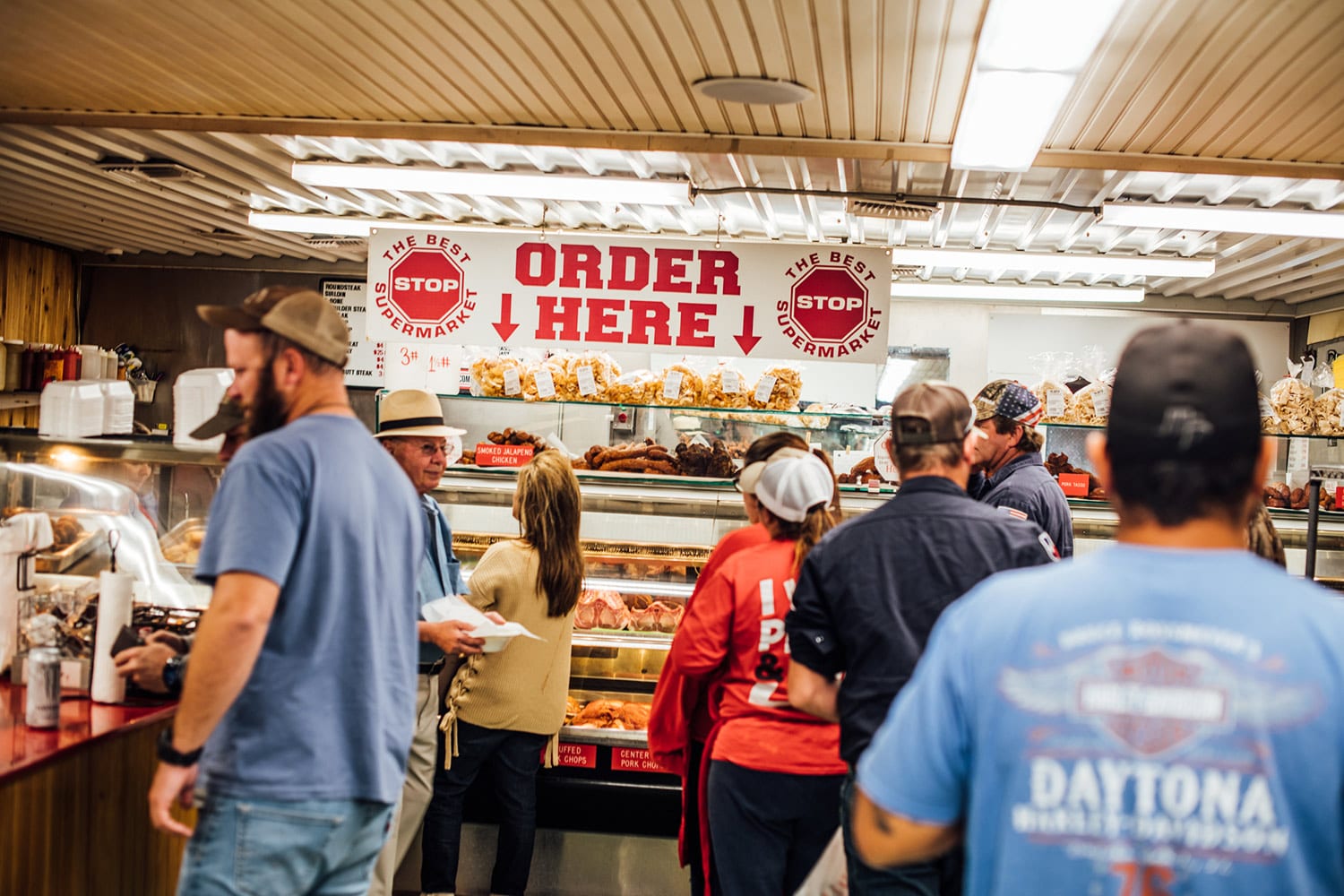 Lawrence and Robert had a straightforward goal when they created The Best Stop Supermarket. The mission was to provide the best specialty meats in Louisiana while creating a brand that their families could be proud of. Thirty years later, it's clear that the mission has been a success.
Today, The Best Stop not only serves the local community in and around Scott, they also provide their award-winning meats to online and wholesale shoppers across the country.
"You can fool most people, most of the time,' says Cormier, "but you can't fool their taste buds. If they like something, they'll come back."
Meet The Best Stop Family
Whether you're visiting the flagship or a franchise location, chances are you'll see the familiar faces of the Cormier family each time you go—including co-founder Robert Cormier. They can help you choose just the right meats for your next cookout.
With family being the heart and soul of The Best Stop Supermarket, Lawrence and Robert's children have all been an integral part of the growth and success of the business. Robert's daughter, Dana Cormier, began working alongside her dad and Uncle Brud in 1994 after serving as a police officer and narcotic agent for the Lafayette Sheriff's Department. With the passing of Lawrence in 2008, Dana took the reigns and became the general manager of The Supermarket. The youngest of the Cormier clan, Damon Cormier, also returned to work at The Best Stop in 2009 after working as a mortician and funeral director for Melancon Funeral Home. He spearheaded putting The Best Stop on the map by incorporating online sales while working side-by-side with his dad and sister, Dana. Nicky Cormier Richard also joined her siblings in 2017 after a 26-year career as a hairdresser and salon owner of Tres Chic. She became the manager of The Best Stop Express in Duson, Louisiana, , which has moved to The Kitchen in the flagship Supermarket. Penny, the first-born Cormier child, and first-made-boudin maker, joined the team in 2018 as the business' financial manager after spending 25 years as an educator and supervisor for the local public school system.
"Everyone who purchases specialty meats from The Best Stop, whether it be in person or online, becomes a member of the extended family here," says Penny. "From Louisiana, to across the US, we are truly blessed with the continued love and support of our little business off Interstate 10."

Love Best Stop! Their Smoked Boudin cannot be beat! I moved to north Texas several years ago, and any time I am down home visiting, a trip to Best Stop is a must to stock up with all the goodies! Their staff are some of the friendliest people you will find! Have been a customer for years, and as long as I'm breathing, I will continue my loyalty! - Nadine Myers Creswell
Best boudin balls, hands down. Excellent pork skins, boudin, and tons of great meat to choose from here. Seems like it's always busy because everyone in Scott knows how dang good it is. - Carolyn Mighell Barber
The Best Stop Scott
615 Hwy 93 N.
Scott, LA 70583
Phone: 337-233-5805

Store hours:
Monday through Saturday:
6:00 am to 8:00 pm
Sunday:
6:00 am to 6:00 pm.